---
Welcome to WAYNE'S WORLD! (Party on, dude...) As Mike Wreen says, "It's different... Wayne's World is really different! He has his very own ontology which recognizes 'the will to party' as THE fundamental reality underlying life, the universe, and everything!" NOTE: I began constructing this personal home-page in 1995 while working at an ISP with a bunch of mostly younger college-age kids (shortly after grad-school). While it largely reflects the philosophical questions that occupied me at that time, a good bit of new material has also been added over the years. No doubt, the theme of Wayne's World should be scrapped-- should have been scrapped long ago! -- but I have been just too busy with other things to think about it. So, at this point, I guess you'll just have to party on...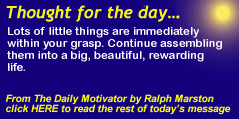 ---
NOTE: The products below are available at WayneShop.Com -- an online store offering low prices and enthusiastic service to people who are searching for top-quality vitamins & supplements and life-changing books & DVDs on nutritional health! Please visit WayneFerguson.Com for more information on nutritional excellence and lifestyle medicine!
---
Wayne's World is permanently "under construction," both virtually and existentially!

---
Original Materials on This Web-Site Copyright © Wayne Ferguson. All rights reserved.